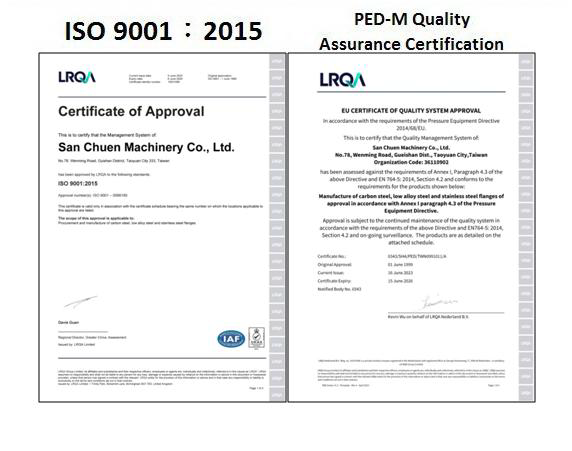 Founded in 1981, San Chuen Machinery Co., Ltd. is committed to service, quality and customer priority. We are dedicated to serving our customers with a full line of high-quality forged steel pipe flanges and fittings. In San Chuen Machinery, every employee is treated as a family member. This extended family tradition has translated into low personnel turnover and an employee commitment to excellence. In addition, San Chuen Machinery focuses on the growth of the company in all aspects. We continuously and consistently invest on manufacturing facility, minimize production cost by providing employee training, and improve the quality of service and production.
Throughout years of experience, not only our fabrication team can bring a level of expertise, but also knowledge and innovation to the flange manufacturing process. Our flanges are manufactured in accordance with ASTM, ANSI, API, MSS, DIN, JIS and other engineering standards. San Chuen Machinery Co., Ltd. specializes in supplying various types of flanges to the world's most demanding industries. Our flanges are widely used in applications like Oil and Gas exploration and production, Oil Refining and Processing, Petrochemical, Chemical and Wind and Power Generation etc. We have the capacity to supply a wide range of materials and custom flanges such as low temperature, high alloy, high strength, high pressure, specialized dimensions, etc. We will always give our undivided attention to meet our customer specification.
Due to the excellence in our fabrication team and quality management system, San Chen Machinery has been approved and certified by ISO 9001:2008 for quality assurance. Over its 34 year history, San Chuen Machinery has built a reputation for service and performance to our customers among the traditional flange industry. We appreciate all the continuous support from our old customers and look forward to establish long term relationship with our new customers. We will continue to provide our best possible service in a timely and efficiently manner in the future.
COMPANY OVERVIEW

Taipei Factory (Headquarters)


No.78, Wenming Rd., Guishan Dist., Taoyuan City 33382, Taiwan (R.O.C)
Tel:+886-3-327-0869(10 line)
Fax:+886-3-327-3879;327-0878~9
E-mail:sanchunm@ms42.hinet.net

Dounan Factory


No.26, Ln. 15, Yanping N. Rd., Dounan Township, Yunlin County 63045, Taiwan
Tel:+886-5-596-4976~9
Fax:+886-5-596-4975;595-1535
E-mail:r471214@ms64.hinet.net
President & CEO: Ching Hua Shen
Foundation Date: July 1981
The Registered Capital: NTD 69,400,000
Total Number of Employees: 80
Factory & Industrial Building:
Taipei Branch: Area of Land 3,300 m², Building Area 3,960 m²
Dounan Branch: Area of Land 19,800 m², Building Area165,000 m²
Cooperative Banking: First Commercial Bank at Luchou Branch / Huwei Branch